Cider House Bed and Breakfast now has a Virginia ABC Bed and Breakfast License. This gives us the ability to sell wine and beer at our cost to our guests. Planning to do take out to eat in our dining room or on the deck? We can provide wine or beer to go with that.  Want to spend a quiet evening on the Coyner Suite balcony or at the fire pit on the deck? We can provide wine or beer to go with that. Plus, we are now adding wine and beer as an option to our cheese plate and lunch to-go packages!
We are taking great care to source locally-available excellent wine and beer. Our suppliers will shift over time, as we have a lot of good options. Right now we are stocking four choices of beer from Seven Arrows Brewing Company in Waynesboro to appeal to a variety of taste.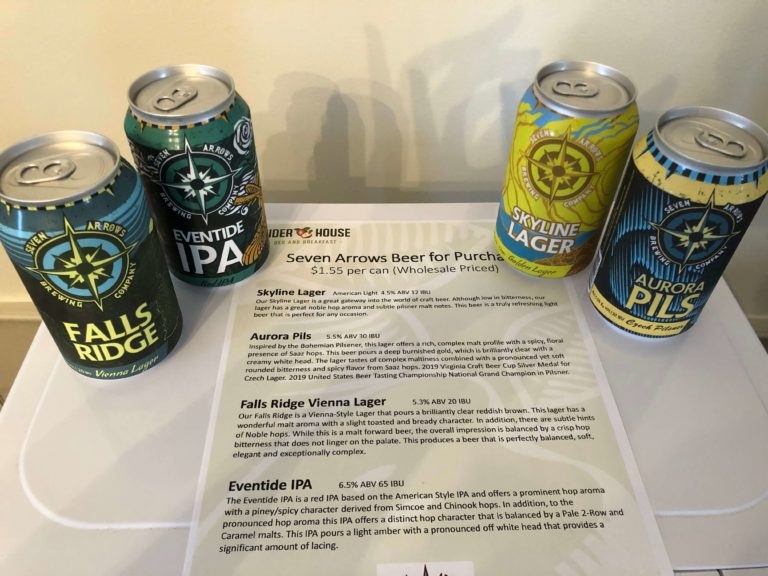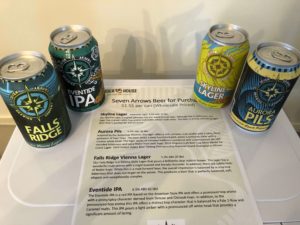 We are sourcing wine from three local wineries, Barren Ridge Vineyards in Fishersville, Ox-Eye Vineyards in Staunton, and Afton Mountain Vineyards in Afton. We are offering our favorite selections that include both dry and sweet, red and white, a sparkling white, and a port style (our preference for an evening by the fire pit).
Plus, we are now offering wine in a can from Bluestone Winery (Bridgewater, VA), a great option for those who ask us to create a bag lunch to take along on a hike.
We see this as a great way to better serve our guests, and ensure they have a great stay!