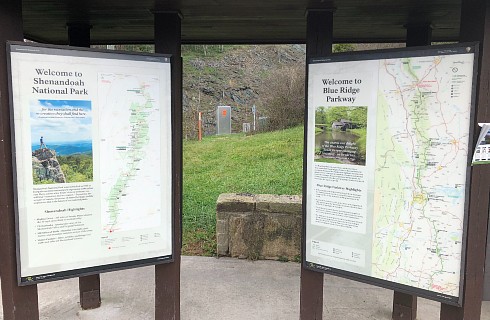 A little advance planning helps make any trip more successful, so here are our top tips for maximizing your enjoyment of the beautiful Shenandoah National Park/Skyline Drive.
Enjoy all seasons: Spring wildflowers and blooming trees, the lush summer greens, fall foliage, and the special beauty of seeing the terrain and extended vistas in the winter; your hikes will be different with every season. The elevation means it is less hot in the summer than it is in the valley; of course in winter, that may mean ice or snow when the valley has clear roads.
Entrance Fees: These fees are good for unlimited entry for seven consecutive days, and are correct as of January 2021: Check here to confirm:

Single vehicle: $30
Single motorcycle: $25
Individual person: $15
Annual pass for one vehicle: $55

Online passes: When the park is very busy, particularly weekends in the fall, consider buying your pass online, which puts you in a shorter line. The prices are the same.
Free dates in 2021:
Monday, January 18 – Martin Luther King, Jr. Day
Saturday, April 17 – First Day of National Park Week
Wednesday, August 4 – One year anniversary of the Great American Outdoors Act
Wednesday, August 25 – National Park Service Birthday
Saturday, September 25 – National Public Lands Day
Thursday, November 11 – Veterans Day
Avoiding crowds

Off-peak: The fall colors are gorgeous, but the other seasons are also great, and less crowded.
Weekdays: Much less crowded than weekends, even in the fall.
Southern Entrances: Enter at Rockfish Gap or Swift Run Gap (instead of Front Royal or Thornton Gap)
Avoid White Oak Canyon, Old Rag, and Dark Hollow Falls hikes when the park is crowded, and seek out great hikes that others don't know about.

Plan ahead for the best hike for you. The National Park Service has provided an excellent resource here to help you pick the right hike for your ability and interests.
Get the Park App: Maps, trails, calendar, hours, services, all on your phone. Download the app here.
Check closures before you come: Especially in winter, the weather is colder at elevation and sections of Skyline Drive may be closed due to ice or snow. Also, the facilities close for the winter (some time in November to sometime in March, exact dates vary), though most of the picnic grounds are open year-round. Check ahead here, or call to check the drive's road conditions: (540) 999-3500, option 1, option 1.
Blue Ridge Parkway: Or head south from Waynesboro on the Blue Ridge Parkway, with no entrance fee.
Set up a base camp in Waynesboro for easy access to Skyline Drive and the Blue Ridge Parkway, at a comfortable bed and breakfast such as Cider House Bed and Breakfast!