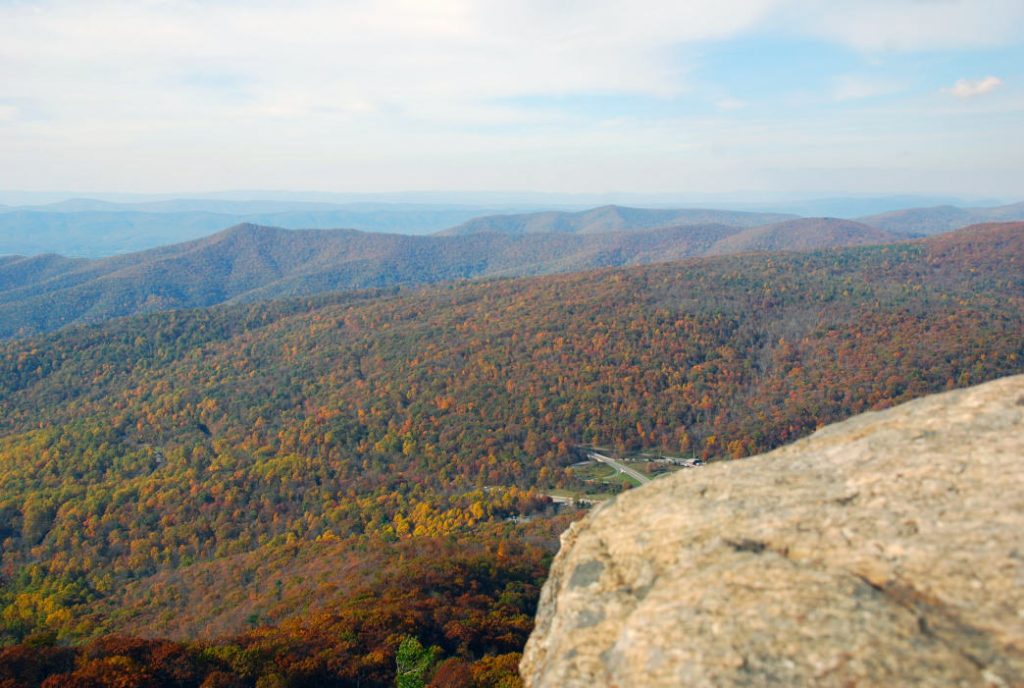 One big draw to Waynesboro is the fall foliage in the Blue Ridge. This year the show is expected from the week of September 21, when it is just starting, to the week of October 19, when it is past peak in Augusta County (west of the ridge), but at peak in Nelson and Albemarle Counties (east of the ridge). Check out the 2020 Annual Fall Foliage Prediction Map from the National Park service: https://smokymountains.com/fall-foliage-map/
The best weeks in Waynesboro are predicted to be the week of October 5, near peak, and October 12, at peak. But seasoned leaf peepers know that each vista is a bit different, and elevation matters. Whether driving along Skyline Drive (north from Waynesboro) or the Shenandoah Parkway (south from Waynesboro), or hiking the Appalachia Trail, you get the treat of multiple perspectives. The trees around you, the trees on the next ridge over, the trees west of the ridge, in Shenandoah Valley, and the trees in the piedmont, east of the ridge.
Shenandoah National Park is in Phase 3 of phased reopening, with most amenities open. For the latest information, go to their website: https://www.nps.gov/shen/index.htm. As of September 7, 2020, the following are the key points:
Visitor Centers
Beginning Friday, August 14, 2020, outdoor contact stations will be staffed 5 days a week at both visitor centers, weather permitting. Park stores will be open inside during contact station hours to a limited number of patrons (masks are required). Indoor exhibits and theaters will remain closed at this time. Rangers and staff will be available to answer questions, hand out Junior Ranger books and badges, offer pre-stamped papers for passport cancellations, supply maps, and assist in planning trips. Hours of operation for the outdoor contact stations are as follows:
Dickey Ridge: Open Friday – Tuesday, 9 a.m. to 5 p.m.
Big Meadows: Open Thursday – Monday, 9 a.m. to 5 p.m.
Concessions-operated Services
All lodges, waysides, and campstores run by Delaware North are currently open. This includes: Elkwallow Wayside (mile 24), Skyland Lodge (mile 41.7 or 42.5), Big Meadows Showers and Woodyard (mile 51), Lewis Mountain Cabins and Campstore (mile 57.2), Loft Mountain Campstore (mile 79.5), Big Meadows Lodge (mile 51), and Loft Mountain Wayside (mile 79.5). Masks are required for entry into all facilities.
Picnic Grounds
Picnic Grounds are open.